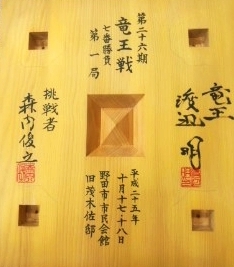 The board produced by our shop was used for the Ryuo Title, Akira Watanabe Ryuo vs. Toshiyuki Moriuchi Meijin's Shogi tournament held at Noda on October 17th and 18th.
 We sold it about two months before the title game, but it is a first-class Shogi board using the authentic Hyuga Kaya (日向榧), and it is a superb item with a thickness of 18.6cm. The straight grain is clear, and it is a beautiful reddish board that anyone can see from Hyuga.
 This item was taken from a national forest log that was bid at the timber auction in Miyazaki City in the 1950s, and is a gem made by my father, Tokukichi Kito. It features the traditional Edo spatula scale (HERA-MORI) and handmade feet made over a long period of time.
 I pulled feet out to sign, and the foot was signed by Tokukichi Kito in 1990. I was deeply moved when I thought that a hot battle would take place on this board with my father's signature.
Maruhachi Gobanten
Tokujiro Kito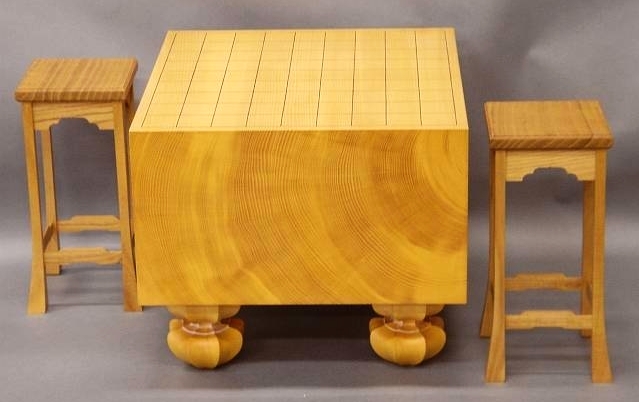 Hyuga Kaya Go Board
[18.6 thick, Tenchi-masa]
Go board master : Tokukichi Kito
---
Back to Top