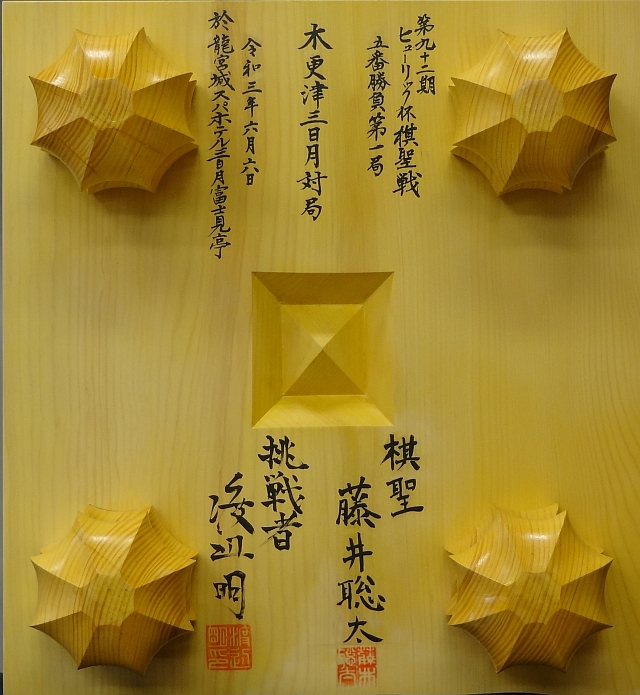 The board produced by our shop was used for the Kisei title, Souta Fujii Kisei vs. Akira Watanabe, which was held at the Hotel Mikazuki in Kisarazu on June 6th.
 A high-class board of Hyuga Kaya that you can see immediately. It is a log obtained by bidding at the Aya Forestry Office in the 1980s. It's 20.9cm thick, and the ends are beautiful, and it's Shiho-masa, a luxurious cutting that is rarely seen today.
 However, the most wonderful point is the beauty of the top. All annual rings over 400 years old are available at regular intervals of 3 mm. Some logs have a biased core position, and it is rare to get such a straightforward annual ring. It is an outstanding top that makes you want to thank you for meeting each other.
 This is the first defense game for Souta Fujii, and it was the first battle that attracted the public's attention with Watanabe Meijin, who is one of the strongest Shogi player. We pray for the continued success of the two young player, and we would like to express our sincere gratitude to all the staff of Japan Shogi Association and the venue for their efforts in holding this tournament.
Maruhachi Gobanten
Tokujiro Kito
* Click an image to see enlarged photos.
Hyuga Kaya Shogi Board [20.9cm thick, Shiho-masa]
---
Back to Top