Hachisuka, Kunizo, and Seiho, who are masters of carving, Kakuho and Chikufu, etc. We have a wide variety of Shogi pieces to meet any needs of you.
 The price does not include shipping fee. All of our luxury Shogi pieces come with a paulownia flat box, a pieces box, and a Tatsumura silk pieces bag as accessories.
* Click an image to see enlarged photos.
Display 1-5 out of 8
---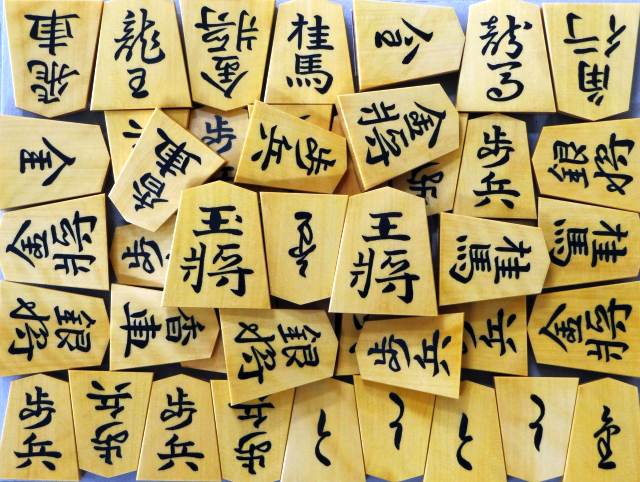 Mikura Tsuge variegated straight grained Filled pieces
[By Chikuhu, Kinki]
[竹風作・錦旗書]
 Price : 130,000 JPY
 Product ID:N491
 It uses the same wood as Ryoko above. Both are the 3 major typefaces that he is accustomed to making, so you can see the skill of craftsmanship. Accessories worth 10,000 JPY are included, such as a special paulownia pieces box and a flat paulownia box, and a pure silk piece bag of Tatsumura Art Textile.
---
Mikura Tsuge straight grained Carved pieces
[By Seiho, Minase]
[清峰作・水無瀬書]
 Price : 140,000 JPY
 Product ID:S656
 It has darker color, variegated straight grain with shades and was removed near roots. In spite of the basic Minase typeface, I like it because of the sharp carving of Seiho style. His carving is unique and has contrast of thick and thin. This is the Seiho style Carved pieces.
---
Mikura Tsuge fine straight grained Carved pieces
[By Morihiro, Minase, 3 kings]
[守弘作・水無瀬書・王3枚]
 Price : 160,000 JPY
 Product ID:A144
 Morihiro is the craftsperson that I have been paid attention to for quite some time. This work, large and bold Minase, is a wonderful work cared about small details. He has a unique sense and is promising. The wood is elegant whitish fine straight grained Mikura material. It has faint tiger stripe, and the more you use it, the clearer the pattern becomes.
---
Mikura Tsuge faint tiger striped Carved pieces
[By Shogetsu, Kinki, 3 Kings]
[梢月作・錦旗・王3枚]
 Price : 170,000 JPY
 Product ID:A103
 Shogetsu, a promising new artist who I was deeply impressed by his talent. It is normal Kinki carved pieces, but if you look closely, each engraved line is beautiful. It's pieces of masterly workmanship that is different from any other.
---
Mikura Tsuge rough straight grained Carved pieces
[By Shogetsu, Shokko, 3 kings]
[梢月作・蜀紅・王3枚]
 Price : 180,000 JPY
 Product ID:A148
 Popular carved pieces of Shogetsu, which wer completed in the New Year. I only ask for high-quality pieces of Satsuma material, but this time, I asked him to use rough straight grained Mikura. I am satisfied with the typeface that has a bold presence no matter what kind of wood is used, but from the artist's point of view, it seems to be troublesome and difficult.
---